How about I use my hard cock to rub massage oil all over them before slipping between them, fucking them and shooting my thick creamy spunk all over them.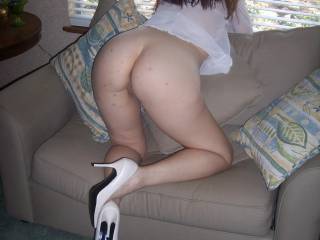 You take after my wife. She loves to fondle her lovely tits and watch her favorite toy rise to attention. After that the fondling is over.Of her tits that is. If I were there with you. After looking at a lot of your photos, I think the same thing would happen. Check us out. Kiss them, suck them, pinch them, bite them, lick them, smack them, pull them, grip them, hold them, rub them, fuck them.
 Massage them both all over with my warm stiff cock. Left, right, up and down around in circles til my clear pre cum is dripping from your nipples. First I'll place nipple suction cups on your sexy nipples, then give you a sexy French kiss, then I'll place a collar on you turning you into my sex slave to receive many orgasms from your master . I would gently fondle them and caress your nipples to total sensivity and make you come just by tender touching. After which I would turn my attention to your wet & ready pussy. I would grab these gorgeous things, standing behind you. Then push you on the table, and fuck you hard and deep from behind squeezing and pulling your breasts.